About Dinokeng
Dinokeng is a Blue IQ initiative established by the Gauteng Provincial Government, with the objective of establishing a premier tourism destination close to urban Gauteng. The project aims to promote economic growth, job creation and social upliftment through conserving and developing the historical, natural and cultural heritage of the area. As a specific destination the Dinokeng Big 5 Game Reserve has been established. Read more...
About Owl Spot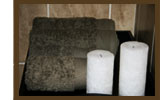 Owl Spot luxury cottages are situated in the malaria-free north-western section of the Dinokeng Game Reserve – a convenient 30 minute drive, 50 km north of Pretoria. Read more...


Nature and wildlife
The grassland bushveld habitats of Dinokeng support an abundance of indigenous wildlife. The region is home to a range of game including zebra, hyena, giraffe, buffalo, njala and eland across the five provincial nature reserves of Rust de Winter, Mdlala, Mkhombo, Leeuwfontein and Roodeplaat and a number of conservancies. The area will ultimately be restocked with Africa 's "Big 5" - elephant, lion, leopard, buffalo and rhinoceros. Read more...